Despite the similar reach to the MB52 it's a totally different crane. The MB50 was designed from the start to handle very heavy head packages (maximum nose load is 80 kg). It's much stiffer than the MB52 and MB45. Despite it's reach of 50ft it's still a very compact crane when retracted, easy to transport and move around on the film set. Short back end of only 2,6 m makes it easy to maneuver in tight spaces and allows high tilt angle of up to 53 degrees. There's also a pair of telescopic rails that extend the back end for additional 1m for more leverage and easier arm control.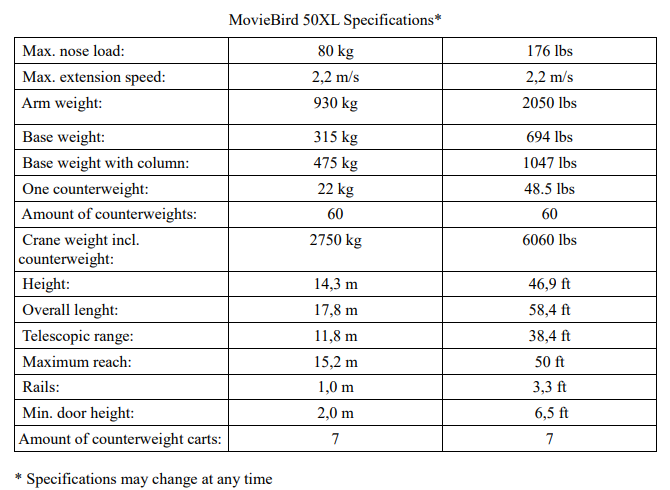 The new MovieBird base
The new MovieBird base with a two stage telescopic column will significantly increase the functionality of the MB50XL crane.
The lifting range of 0.8 m allows you to descend to a minimum height of less than 2 m so you could enter through a standard door.At the same time the maximum lifting height is increased to 2.8m which allows a 52 degree angle of inclination and a 46 foot camera height.
Accessories:
MovieBird Camera Tracking System
If you want to create a virtual studio or enrich it with augmented reality, you need a camera tracking system. You can now equip your MovieBird telescopic crane with such a system.
Tracking system components:
Encoders:
Arm (Panorama, Tilt, Motor)
2 Axis Magic Head (Panorama, Tilt)
Lens (Focus, Zoom) + support for Canon lenses with digital encoder output
Dolly (track wheel)
2 pcs Encoder Interface Box
Main Box
Control touch panel
Gyroscopic Leveling Head (arm deflection compensation)
Power Supply
First samples/shots made at our production hall.
A fragment of a news program (TVN) with the use of AR.
The manufacturer recommends the following safety procedures: in order to reduce the possibility of an accident, every camera crane with an arm range above 30 feet (9 meters) should be operated by at least two trained technicians (grips).
In the case of MovieBird cranes, it concerns models: MB-30, MB-35, MB-45, MB-50XL, MB-52, MB-62.
This crane has worked on: